International Festival 2003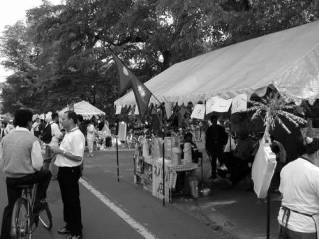 Nepalese stall in HOKUDAISAI 2003
HOKUDAISAI International Festival (IF) location changed from its usual place of the previous years. International Festival scheduled from 2003/6/6(Friday) to 2003/6/8(Sunday). Nepali dishes included chicken curry and rice, Momo and Nepali Tea. HUNSA had requested HONESS to help for cooking utensils, transportation and other logistic support. In this way HUNSA and HONESS jointly participated in food festival this year.
Hokudai paid serious attention on hygienic aspect during food preparation and selling this year. Therefore, preparatory activities before the cooking (Chopping, cleaning, mixing etc) were done inside the room. For this purpose, Hokudai provided a room at the international Student Center and a laboratory room at the Agriculture Faculty. Like those of previous years, customers liked all three Nepalese food/drink items. Nepalese stall was one of the attractive ones among numerous stalls opened in that festival.
It was suggested to wear the Nepali Topi (cap) during the festival to those who had it. Nepali stall was decorated with posters and banners accompanied by Nepali songs. Individuals brought their own aprons and scarves for head covering to be used during the festival.
Reported by: Mr. Sanjaya Acharya