International Festival 2002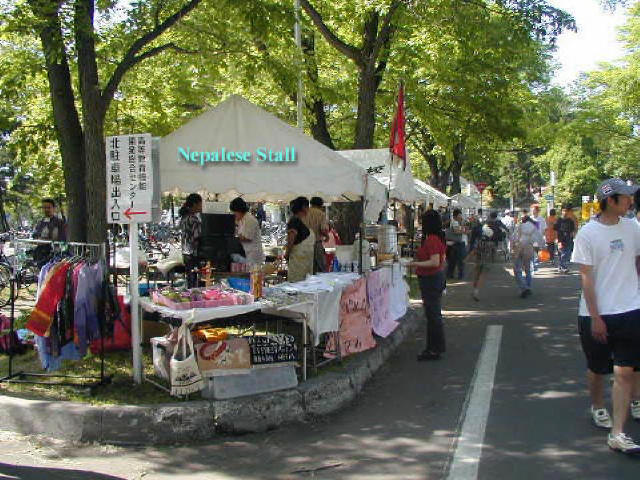 Nepali stall at Hokkaido University International Festival
Hokkaido University International Festival (hokudaisai) is organized every year in June along the main street of Hokkaido University. A large number of Japanese and International food stalls are set up to serve a wide variety of foods and drinks. Stage performances, exhibitions and street performances are other major attractions of this festival. Last year, Earth Club organized this event during June 6 - 9, 2002, in coordination with the International Student Center. HUNSA participated in this event for the first time jointly with HONESS. A Nepalese stall was erected in the allocated space in the morning hour on June 6, 2002. We were ready to serve customers from the noon. Over two thousands of visitors were served with Nepali foods during this festival. Momo, Chicken Curry Rice and Nepali Tea were served as Nepali food. Nepalese students also participated in the stage performance and performed a Nepali group dance and a song. The street performances were also interesting during this festival. Nepalese students performed typical Nepali dances in front of our stall that attracted many visitors. Some of the Japanese visitors and International students joined this group dance.
The work was challenging, as several activities have to be performed at the same time. We divided in to small groups to be involved in different activities like momo preparation, cooking matters, cutting onions and chickens, serving customers, inviting customers, performing Nepali dances in street, mobile food service, cleaning utensils etc. Sometimes, there were long queue for service while some time no customer. Lunchtime and evening time were peak time while in the afternoon time there were only few visitors. Although, a work schedule was prepared at the very beginning stage of preparation, it couldn't be implemented properly mainly because of our hectic schedule.
Thanks to all members of our community who worked really hard to make it a great success. All Nepalese students showed a great team spirit during this event. Besides, we learned many things about the organization and management of such events that will be very useful for such similar events in future. Thanks to the lady members of our community for their contribution in the preparation of food, serving foods, inviting customers and performance of Nepali group dance. They have great contribution for the success of this event. Thanks to all Japanese friends who have contributed in this event. We are also thankful to all international students for their cooperation during this event. It has become one of the memorable events of our life.
Reported by: Mr. Prakash Ranjitkar