Farewell Program 2002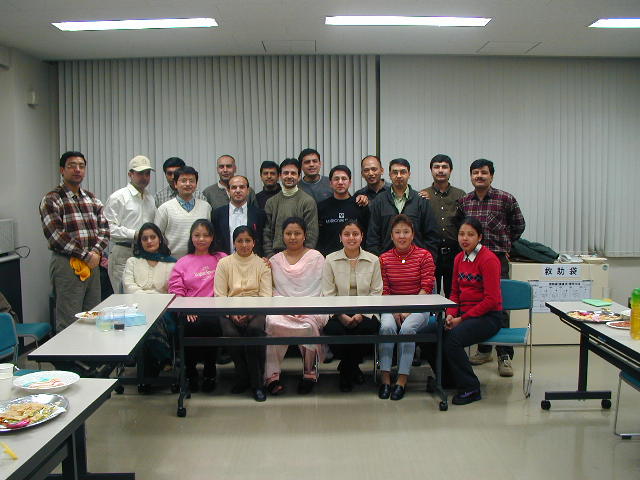 A group photo taken during farewell program
A graduation party was organized on March 1, 2002 in the honor of Nepalese students graduating from Hokkaido University in March. This was the first program organized by HUNSA after its formation in January 20, 2002. All three graduating members participated in this event. Dr. Ganesh Prasad Dhakal and Dr. Ramji Bhandari had successfully completed their doctorate study from Graduate School of Engineering and Graduate School of Science, respectively. Mr. Chinta Mani Gautam had completed his master study from Graduate School of Environmental Earth Science.
The party started around 5:20 pm. All students and their family and some Nepalese residing in Sapporo gathered to congratulate the graduating friends. The program started with congratulatory message from Mr. Prakash Ranjitkar, President of HUNSA. Mr. Meghraj Bhandari, Secretary of HUNSA, conducted this program. Mr. Om Krishna Timilsina, President of HONESS also congratulated the Nepalese graduates and explained about HONESS, which is a social organization of Nepalese residents in Sapporo. The graduating students expressed their feelings and their experiences during their study and informed about their future plans. All participants congratulated them with the best wishes for future career.
Mr. Sanjay Giri performed a nice Nepali song and Mr. Hem Nath Ghimire came up with some interesting jokes and group acts and plays that made everybody laughing. The winner of logo competition Mr. Dhananjay Regmi was acknowledged for the best logo design and given a prize as a token of appreciation. The gathering also acknowledged contributions from Mr. Sunil Kumar Lama and Mr. Prakash Ranjitkar for designing logos for HUNSA.
In the later part of the program, a dinner party was held. Typical Nepali food prepared in traditional fashion made all participant feel at home. The lady members of this community coordinated this part of the program. Thanks for their efforts to organize the dinner party and preparation of delicious foods that everybody enjoyed during the party. The dinner party was followed by informal talks. Later, Mrs. Nanu Gen and Mrs. Sabina Ranjitkar performed a Nepali dance. The program was concluded around 8:00 pm.
Reported by: Mr. Prakash Ranjitkar