Some useful tips for new parents
Gita Bhandari
New baby brings a whirlwind of activity and emotion - joy, wonder, pride, happiness - and, let's face it, fatigue and stress. In addition to having a new family member, you're dealing with potential sources of tension such as altered sleep patterns, new routines, and visits from family. While this stress won't go away, you can take following general steps to insure the best possible adjustment for your family.
<![if !vml]>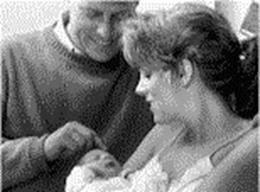 <![endif]>1. Breastfeeding is best for baby
Most of today's new mothers do not want to breastfeed their child. But research indicated that mother's milk could offer a cache of protective effects, including reducing the risk of infections in the gastrointestinal, urinary and respiratory tracts, lowering the rate of ear infections, and protecting against allergies, diabetes, and even obesity later in life. But that's not all. Doctors say breastfeeding is also beneficial to mom, with both long and short-term benefits. Therefore, it is highly recommended to breastfeed new born child.
2. Make your health a priority
You canít be an effective parent if you are sick or stressed out. Recognize that you need time to adjust and regain your energy. Do not feel guilty or try to use every moment of baby's naptime to accomplish waiting tasks or everyday jobs. Give yourself time to rest and relax when your baby does.
3. Postpone major decisions
As with any life transition, realize that this may not be the best time to make critical decisions concerning your career, future family planning, or other significant issues. Let yourself adjust and don not surrender to pressures to map out your future right now.
4. Let some things go, even it hinder your daily life
Instead of trying to maintain your pre-parenting level of order, neatness, or punctuality, accept the fact that at least temporarily, you may not be able to maintain these standards. Decide, and concentrate on, what's most important for you. Do not give in to pressure to keep up appearances for others' sake.
5. Try to sleep when you can
Being physically exhausted isn't going to help you manage stress or accomplish a successful adjustment. The old rule "sleep when your baby does" has its merits. As mentioned in earlier, don't try to schedule household tasks into every naptime. Take advantage of your baby's down time to get some rest yourself.
6. Take only advice you value
As a new parent, you are bound to hear advice from everyone you meet. Decide what is important for you and whose advice, if any, you truly value. You canít possibly fulfill everyone's expectations of parenthood. Learn to smile and nod when you receive unsolicited advice, secure in the fact that you need not follow this (or any other) advice.

****************************************
Apple pie with egg-white cream
Olga Giri
Biratnagar, Morang
Ingredients
l For crust: 3 cup flour, Yolk (eggs), 1.5 cup sugar, 200 gm soft butter, 3/4 cup sour cream with 1/2 teaspoon baking soda
l For filling: 8 medium size apples, Cinnamon
l For topping: 3 egg-white (chilled), 1/2 cup sugar powder, 1 teaspoon Lemon juice
<![if !vml]>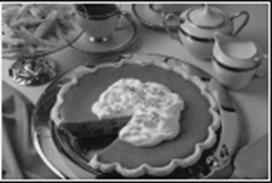 <![endif]>
Preparation method
Peel and slice apples, sprinkle with sugar and cinnamon, mix with lemon drops to prevent darkening. Separately grind yolk with a cup of sugar, mix with butter, stir them and add sour cream with baking soda. In this mixture, pour flour and, gently but fast, make dough. Do not let it crumpled in any circumstances. Let the dough cool off if necessary depending on the room temperature. Put them into a baking tray in form of 1 cm layer. Lay on it mixture of sliced apple prepared earlier. Cook over low heat (190-200 degree C) for 15 minutes in an oven, gently stirring once or twice. In the mean time, shake up 3 chilled egg-white with 1/2 cup of sugar with a couple of lemon drops (better using electric mixer) to get thick cream (foam-like). Remove partially ready pie from heat and pour cream over and bake until done (wait until appearance of golden crust).
When pie is ready, cut it in shapes as you like. Serve with black lemon tea.
Have a nice appetite!

******************************************
HUNSA Activities during October 2003 Ė April 2004
-Sanjaya Acharya
<![if !vml]>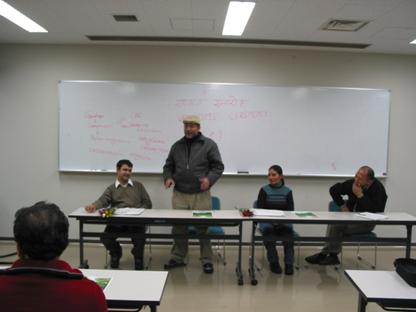 <![endif]><![if !vml]>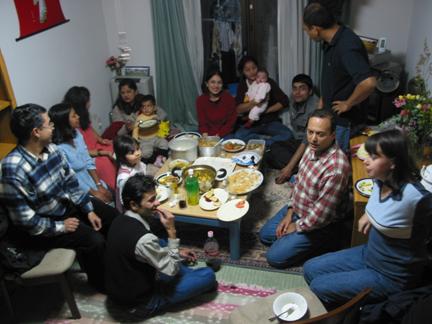 <![endif]>HUNSA organised Dashain programme in a very joyful environment on October 4th 2003. Almost all Nepalese students and some other non-students Nepalese living in Hokkaido also participated in the programme. The programme started with worship of goddess Durga followed by the release of second issue of Hokudai Bisauni. This HUNSA bi-annual newsletter included almost 30 articles in its new volume. It not only included many articles but varied in nature also. Women contribution improved significantly in this issue. Moreover, childrenís drawings were also included in this issue. This issue contained some short articles written in some Nepalese local languages like Newari and Sherpa in addition to the common feature of Nepali, English and Japanese languages.
Dashain celebration also included some sports competition and quiz context. The winners got prizes also. At last, all enjoyed with Nepalese foods they prepared.
After three weeks of Dashain, HUNSA community also celebrated second biggest festival of Hindus, the Tihar. Tihar celebration was in a Nepalese family residence in the International Residence of Hokkaido University. Many student families participated in the gathering organised on the day of Laxmi Pooja. All enjoyed with playing cards, a common feature of this festival, and listened music. . All families contributed for the Nepalese food. Thanks for Sabina and Sumana for providing the space to this gathering.
During December first week, HUNSA Executive Committee called for a special General Assembly (GA) to discuss on the on-going HUNSA activities and develop a long-term mutual harmony with rest of the Nepalese association in Japan in general and Hokkaido in particular. The discussion was held but had difficulties to meet its goal. A second special GA was then announced after one week, but the attendance was not enough to make any decision.
HUNSA organised welcome programme to two Nepalese families in December 26, 2003. The new guests were Dr. Pitambar Gautam and Dr. Narendra Raj Khanal families. Dr. Gautam, a geologist, is co-ordinating a program in Centre of Excellence Office, Neo-science Natural History Faculty of Science Hokkaido University. Likewise, Dr. Khanal, a geographer, is working as a JSPS Postdoctoral fellow in the Graduate School of Environmental Earth Sciences of Hokkaido University. Dr. Gautam and Dr. Khanal both belong to Tribhuvan University, Nepal. HUNSA expressed best wishes to the new comers for a comfortable stay in Sapporo and great achievement in the professional career.
Following the mandatory provision to have at least one regular GA once in every six months, HUNSA had its eighth regular GA in January 21, 2004. After a brief review of the last year activities, this assembly approved the newly elected executive committee. The election committee consisting of two members: Dr. Krishna Hari Gautam and Dr. Narendra Raj Khanal announced the newly elected executive committee for the year 2004 with Mr. Dhananjaya Regmi as the president and Mr. Subesh Ghimire as the secretary. Likewise, Mr. Sanjaya Acharya and Mr. Bijay Giri are the members in the new executive committee. Ms. Renuka Tamrakar was later requested by Executive committee to work as the treasurer. .
In March 2004, two Nepalese students graduated from Hokkaido University. After three and half years of research in rock mechanics and three years of research in river engineering, Mr. Hem Nath Ghimire and Mr. Sunil Kumar Lama respectively received doctoral degree from the graduate school of engineering. HUNSA organised farewell programme to Mr. Ghimire and Mr. Lama families in March 22 and expressed best wishes for their professional career in coming days. Both Ghimire and Lama families returned Nepal.
********************************